In the European automotive market, the Rent-A-Car channel appears to be taking the hardest hit in percentage loss as a result of the Coronavirus crisis. This analysis will look at the RAC market in 16 Western and Central European countries and highlight the recent developments and differences.
In 2019, RAC companies from the 16 countries have been registering 1.7 million new cars and light commercial vehicles, making up about 10% of the market in the region, though with notable differences between countries. While tourism pushed the rental share to more than 18% in Spain, Luxembourg, Poland, Czechia and the Netherland made less than 5% of their light vehicle registrations in this channel.
The flexibility and short-term nature of this business makes the RAC channel very responsive. A large proportion of bookings is made by travellers at airports where the number of passengers fell close to zero in April and May. Top of this comes the drop in tourism, the cancellation of fairs/exhibitions and the contraction of work-based travel that slashed demand for rental cars all over the continent. As such it comes as no surprise that RAC has been the channel that took the hardest hit in terms of light vehicle registrations.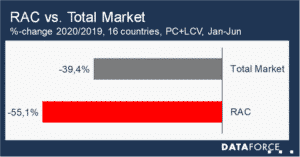 Month-by-month evolution
Registrations dipped 68.1% in March and even 92.1% in April, however with larger differences between countries. While 9 out of 16 markets were down by more than 90%, Sweden – under the absence of a full lockdown – limited the decrease to 54.0%. Activity cautiously returned in May however with five countries still indicating a drop of more than 90%, before June showed a real improvement.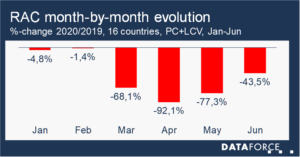 Country comparison
Looking at the first six months of the year in total, Sweden (-34.4%), Denmark (-35.5%) and Czechia (‑36.7%) where least impacted by the crisis. On the other hand, five countries experienced a plunge by more than 60%. With the exception of the Netherlands they were among the countries with the highest number of cases per population: UK, Italy, and Slovakia. Spain, Europe's number two RAC market behind Germany, suffered the largest drop: ‑67.5%.
PC vs LCV
The jump in home delivery demand did not save the LCV RAC registrations. However, their decrease (-46.0%) was more than 10 percentage points smaller than the PC's (-56.0%) and in June RAC LCV registrations were only 15.4% short of 2019 figures, suggesting that demand to rent light commercial vehicles is also recovering faster than for passenger cars.
Outlook
The situation in the rental market will certainly remain challenging. Rental car bookings at airports and for fairs/exhibitions will most likely remain diminished at least until Q1 2021. Furthermore, catch up effects in RAC will be smaller than in other channels as seasonality plays a role for cars registered in this channel. Liquidity is another aspect that needs to be taken into consideration. RAC companies will need to push up utilisation quickly and may well try to remove cars from their balance sheets e.g. by resorting to leasing or long-term rental schemes.
On the upside, overall mobility is rebounding quickly and travellers will continue to prefer individual mobility over public transportation. This helps to push bookings in larger cities where many residents no longer own a car. Further compensation may stem from LCV demand where the crisis has accelerated trends like home delivery services. Pictures of full beaches even suggest a moderate recovery in tourism.