With Dataforce Forecasts, we provide detailed data about dedicated registration channels for five years into the future.
As an example, the diagram below shows the performance of brand X for the country France from now till end of 2020 (X axis = time; Y axis = actual/prognosed registrations).
True Fleets
Private
RAC
Dealer & Manufacturer
Get a spot-on analysis of customer segment with our forecast divided into different registration channels.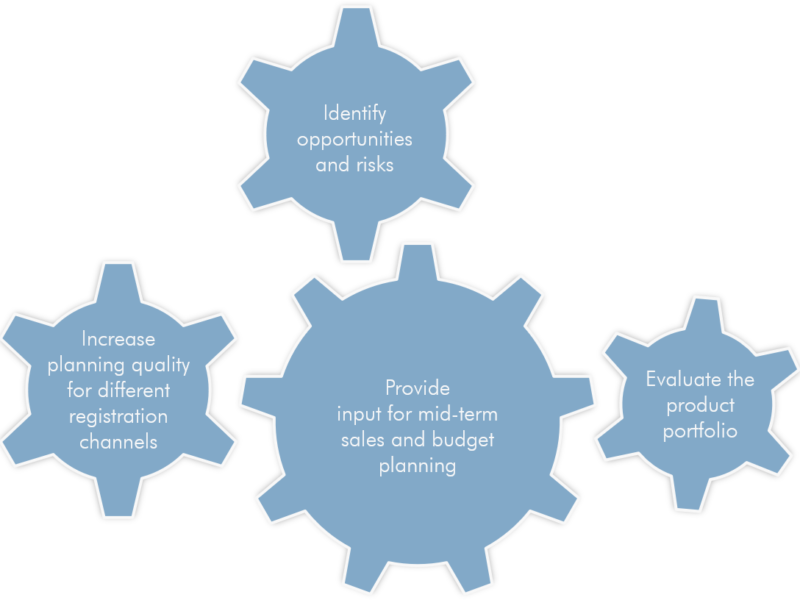 In the International Registration Information System you can quickly and easily analyze the forecasts and export them to your own reporting.
Our forecast data contains the information content about the car market of 85% of Western Europe.
The following data is included in our sales forecasts:
All make & models
Vehicle segmentation & Body type
5 years ahead & Quaterly/Monthly View
Brands & Market segmentation
In Germany: Fleet size
Covering the EU-7 countries France, Germany, Italy, Spain, UK, Belgium and Netherlands
In-depth analysis of different passenger car registration channels

Private Market
True Fleets
Short-Term Rentals
Dealer and Manufacturer

Based on several factors, e.g.:

Economic indicators
Shocks on car markets
Model life cycle events
Legislation
etc.

Analysis of make, model and bodystyle level
Choose your area of profession and we will show you, how you can benefit from our data:
QUICK OVERVIEW: With quarterly reports, you will gain a snapshot overview of what is driving the future automotive market
IDENTIFY OPPORTUNITIES & RISKS: Time is key to success. We inform you when the general conditions in a market change and show you the effects of it
MODEL-LEVEL FORECAST: We directly show you your current state in the year and give suggestions about where you need to set up additional programs to achieve your goals
SMART POTENTIAL: Recognize growth potential to better target sales campaigns
ONE STEP AHEAD: Keep an eye on the competition: What are their model cycles, what new models are they bringing, and what are their sales forecasts
COMFORTABLE REPORT: Integrate the forecasts into your reporting easily
HOLISTIC OBJECTIVITY: The neutral assessment from the outside helps you as a benchmark for your own forecasts
SALES CHANNEL SPLIT: Forecasts already distinguish between registration channels and do not need to be broken down further
SHARP MARKET OVERVIEW: Keep track: All brands and models are included
INDIVIDUAL REPORTS: Create and save standardized reports with just a few clicks and export them to Excel
MARKET KNOW-HOW: Benefit from the expertise and many years of experience of Dataforce analysts who you can contact at any time
SUCCESSFUL PLANNING: How will the fleet market and its segments develop in five years?
DEDICATED MARKET FOCUS: In which markets there is still potential for growth and where can you expect a decline?
SHARP PRODUCT PORTFOLIO: How am I positioned in which market and channel with my product portfolio
BETTER INVESTMENT: Better control investments and improve product planning