Whether it is short term or long-term rental (Operational Leasing), the customers in Europe are getting more and more accustomed to not owning a vehicle themselves. Partly we can attribute this to the cultural change of the sharing-economy, where ownership is shifting to using. On the other side, the historically low interest rate allows for interesting lease-prices.
Total market increased from 2.6 to 4.0 million within 5 years.
We can distinguish a few effects over the course of the last years:
1/ low interest rates reduce the price gap between owning and renting,
2/ people tend to be more open to financing their vehicles then before. They are moving away from owning, as they want to reduce their capital risk, and do not want to deal with expensive repairs.
This has led to an increase of renting and leasing (operational) in Europe over the last 5 years.
The yearly leasing volume has increased by almost a million units. Also, the rental market- including Car-sharing, has increased significantly by 0.5 million units.
This means effectively that right now 1 out of 4 new car registrations is either a leasing or rental vehicle, where that was only 1 out of 6 in 2014.
Leasing by country
As with regular sales, the usual suspects, like Germany and UK, lead Europe in terms of volume.
Interesting is that Poland is the 5th biggest market on volume with 238 thousand units in 2019. The Polish market has seen a staggering growth of 110%, piggybacking somewhat on the country's economic growth. Spain has seen an even higher growth of 132% since 2014, recovering well from the financial crisis that had hit Spain particularly hard.
Dutch focus
The leasing market in the Netherlands is number 6 of the European market for volume and has been driven not only by a historical large fleet but has in the last years increasingly benefitted from private leasing contracts. Mind you, before this period, no Dutch person seemingly wanted a financing contract, that wasn't just a straight loan. The market has been pushed from below by offering stock cars at bargain basement prices. And if the price is low enough, the Dutch like it. No surprise, the private market has suffered, with only 1 out 5 vehicles being bought by private buyers in 2019
The "conservative market" has also developed further, as company cars remain a coveted benefit, specifically with favorable rates for low CO2 vehicles. So, the most leased vehicle in 2019? Of course, the Tesla Model 3 and the main contributor in raising the EV share of leasing to 21%, from 8% the year before!
The Future of Leasing
Assuming that the interest rates remain low for the foreseeable future, we will see a gentle increase in the coming years, according Trading Economics. This will have a slight negative impact on the expected number of leased vehicles. The general tendency of companies towards mobility-mix solutions, will make them move away from providing company cars as an employee benefit, which will in return reduce the corporate leasing requirements.  However, we see that manufacturers are pushing via new rental constructions, for example subscriptions and private leasing. Private customers becoming more accustomed to financial constructions, will help support the growth in leasing on this end of the market.
Don't be gentle, it's a rental.
Short term rental does not just mean short term from the consumer side. Our research in Germany shows that almost 50% of the rental vehicles are sold to and registered by the next customer within one year.
In a way, this is interesting, as the depreciation of the vehicles is the highest in the 1st year of their life. Also, the vehicles, will (normally) be representative for at least the first 3 years after being built. (Assuming the users are gentle with it of course)
This effect is widely known in the industry, as rental is often referred to as a "push channel" for sales, providing hefty discounts. In this way, the rental market is there to take up the overspill of the manufacturers.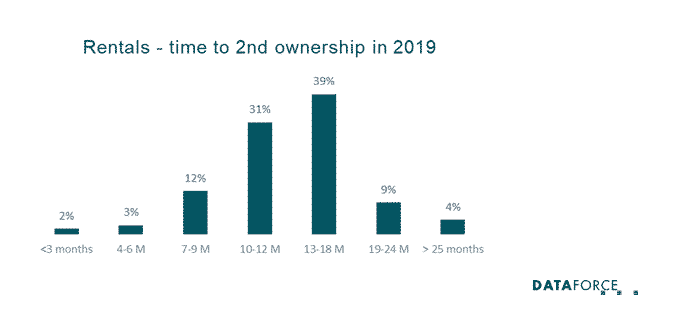 As the rental companies do not tend to keep their vehicles for a long time, the provides opportunities for bargain hunters. And indeed, we can see from our German data, that vehicles tend to end up with private buyers. So, if you are after a used car, why not directly buy your rental vehicle!