MANAGEMENT DASHBOARDS FOR THE AUTOMOTIVE MARKET
Get straight into the analysis!

IRIS VIEWS is THE analytics tool for all decision makers in the automotive industry. Dynamic management reports can be navigated from a bird's eye view down to the details.
Use the evaluation of capture rates, the loyalty matrix, new registrations per brand and region, forecasting and other key figures to monitor the market and make well-founded decisions based on these developments for your planning or for controlling the sales regions.
Choose between standard dashboards in Dataforce design or define your very own dashboard with your own KPIs and CI with our market experts.
Our standard dashboards include:
EU Geo: Whether comparing vehicle, market segments, fuel types, brands or everything combined. This dashboard provides everything you need to observe the development in Europe, but also the differences between the countries.
EU Country: Define your most important markets and look at them in detail or pass the data on to your country organisation so that you can – on the basis of the same data – exploit new potentials together.
Germany: Keep track of the German market with the most in-depth data. Five market segments and 23 fleet sizes are just some of the analysis options on this dashboard.
Germany Geo: Within the framework of 400 registration districts or your very own areas, regional differences and potentials can be revealed. In addition to the presentation of the relevant fleet market and individual fleet sizes, it also becomes visible per region where discounts can be expected in the private market.
Road 2 Zero: The development of CO2 emissions is a current topic that can be analysed in this dashboard in combination with brands, vehicle segments, drive types and countries.
EU Forecasting: Based on the Dataforce EV Forecast, direct values per, quarter and month can be displayed and exported for own extrapolation.
Private Loyalty: How loyal are your customers and from which brands do you conquer? The Private Loyalty Dashboard shows not only the loyalty of customers to a specific model on a monthly basis, but also the conquests and losses per brand/model.
Excellent reporting is a fundamental competitive advantage. Optimally defined, it provides companies with all important information for decision-making at first glance.
Whether at the highest management level, departmental level or for your individual regional structures – Dataforce creates your individual reporting for every hierarchical level. We accompany you in all phases of the reporting process as a reliable partner: from the definition of your exact question to the complete conception and implementation to your desired frequency for regular deliveries.
With the visualization software TABLEAU, our reports are easy to understand, have a clear presentation and a drill-down into the data. Through online access, the reporting can be viewed from anywhere at any time.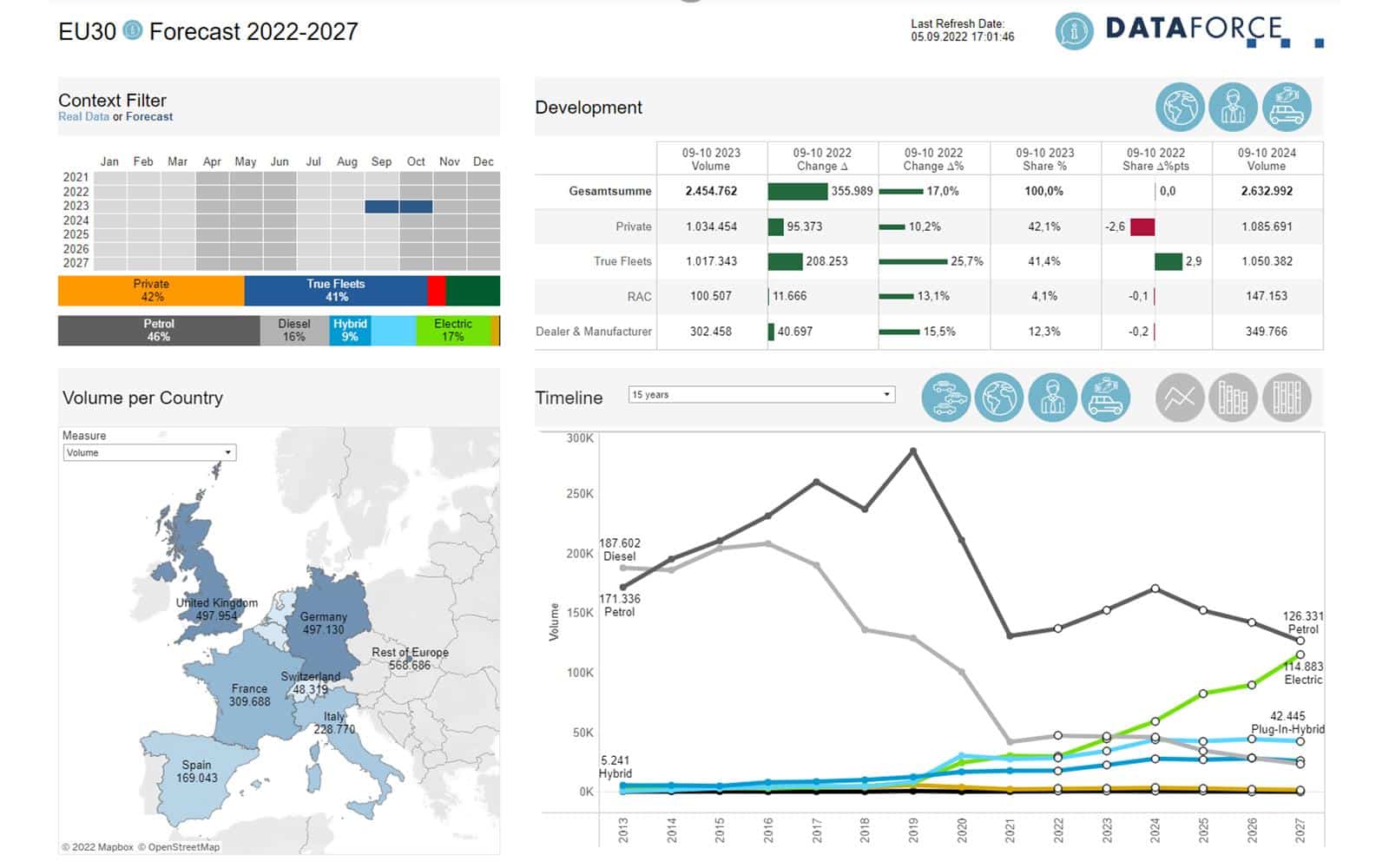 dataforce-iris-views-eu-geo-1-1600x1000
dataforce-iris-views-eu-geo-2-1600x1000
dataforce-iris-views-forecast-1-1600x1000
dataforce-iris-views-forecast-2-1600x1000
dataforce-iris-views-eu-country-1-1600x1000
dataforce-iris-views-eu-country-2-1600x1000
dataforce-iris-views-road2zero-1-1600x1000
dataforce-iris-views-road2zero-2-1600x1000
A separate department is responsible for the conception and visualization of the reports. Our experts use highly efficient presentation methods that give you right away the answers to your questions. Our team works according to the latest benchmarks in management information design.
We have automotive market data in over 40 countries worldwide. We cover the largest markets and provide our customers with the latest market information on a monthly, quarterly or annual basis. Our database contains millions of records and in-depth information about the automotive market in the offered country. Based on this, our smart business intelligence solution allows you to view the data as you need it.
In particular, dashboards for the following data are directly available as standard:
We analyze the latest figures and make them available individually. Based on the status quo, we also create forecasts and projections that support our customers in making important business decisions.
MARKET LEADER IN MARKET SEGMENTATION
Valid data is the basic prerequisite for successful reporting. Dataforce has been Germany's market leader in fleet data for 20 years now. Unique to Germany is the combination of detailed market segmentation by industry and simultaneous subdivision of the commercial market by fleet size class. These parameters, which are indispensable for the fleet analysis, are available in all data streams collected by Dataforce:
New Registrations
Car Parc Data
Ownership Transfers
Private Loyalty
Forecasts
Dataforce's various data streams offer the greatest possible flexibility in evaluation, as all evaluation dimensions (make, model, body style, fuel type, weight, etc.) can be combined in any way. From an overall view of the market to the presentation of your individual KPIs and the analysis of regional differences – Dataforce is your competent and reliable partner.
New Registrations – At the Pulse of Time
Especially in order to present the market segment True Fleets without distortions, the registrations are clearly separated from RAC (rent-a-car), car dealership or Manufacturers. Get quick and easy access to this steadily growing market segment of the automotive market. This is the only way to make a realistic assessment of the overall market.
"Where are the vehicles actually registered?"
"Are micro fleets important to my target audience?"
"How does direct competition behave?"
"Do dealer registrations influence analytics"?
Dealer Network Analysis – Regional Success
Measure the performance of regional units and define your own territories.
Analogous to the nationwide new registrations and car parcs, you receive individual or standardized information on a regional basis. This can be in the form of postal (5-digit ZIP codes) or political (county municipality keys/statistical districts) areas.
"Where are there new unidentified market potentials so far?"
"Which metropolitan areas are particularly attractive for us as an importer brand?"
"I need basic data for evaluating my area managers."
Forecast – Fleet with Future
Get a reliable outlook on the future development of individual market segments (Private – Fleet – Rental – Manufacturers/Dealership). In addition to the classic economic indicators, Dataforce also takes into account fleet-specific key figures, which we collect using our own fleet manager panel. In addition, the evaluation of model policy events is another central component of our forecasting procedures.
Add to, improve and sharpen your volume planning with Dataforce and use the accurate information to make better decisions.
"How will the fleet market in Germany develop over the next 3 years?"
"Will there be opposing developments in the small and large fleets?"
"How does Dataforce assess the numerous new model launches in the EV sector?"
With our latest dashboard as part of the Road To Zero program, you get a clear insight into the world of WLTP and NEDC data in Europe based on individual market segments (Private – Fleet – RAC – Manufacturers/Dealership). The comparison between average CO2 data and the targets can be displayed including supercredits as well as empty weight.
Save time on calculations and compare yourself on a country level with other brands and models in specific time periods and segments to achieve your goals.
"Which brand is leading the way to zero emissions?"
"Am I on track to meet my CO2 targets?"
"What does the CO2 data of my competitors in Spain look like?"
Dataforce strives to realize every individually desired type of reporting for you, because: The benefit for you as a customer is always in the foreground!
In a joint dialog with you, we define the exact questions for which you need an individual reporting. For the implementation we usually use our own database, but of course we can also integrate internal data streams from you. You can receive the online version with log-in on a platform of your choice or offline on the classic way by e-mail.
Do you already have precise ideas about how your reporting should be designed? No problem! Of course, we are also happy to implement your wishes 1:1 for you!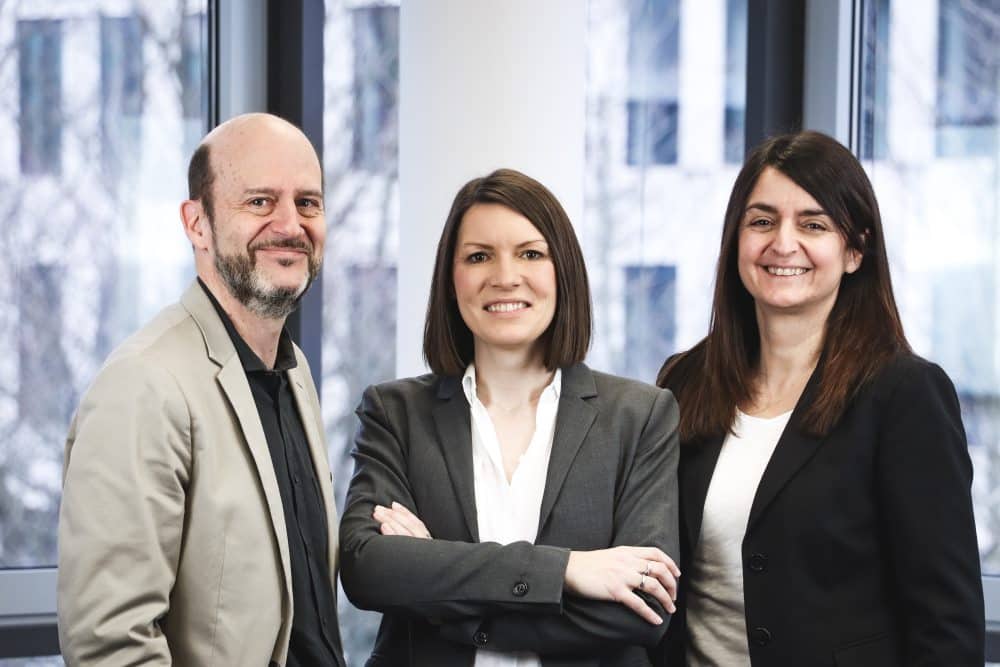 Are you interested in a trial access to our IRIS VIEWS tool? Fill out the form and get a 14-day access to the system.